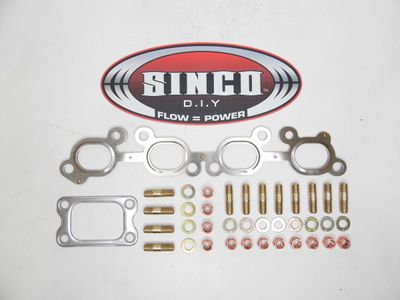 SR20 - T3 - Gasket Stud Locknut Kit
Sinco D.I.Y.
Sale $196.50 $176.85
or 4 interest free payments of $44.22 with
learn more
Full replacement stud, locknut & gasket kit to suit SR20 and T3 SINCO turbo manifold flange. All our T3 flanges are tapped to = m10x1.25
Kit includes:
x12 m10x1.25 studs
x12 m10 hardened washers
x12 m10x1.25 copper locknuts
T3 turbo inlet gasket (multi layer)
SR20 exhaust manifold gasket (multi layer)
Our multi layer stainless steel exhaust manifold gaskets are an essential part of a reliable and long term seal when installing factory or aftermarket exhaust manifolds.

The stainless steel layers are less likely to overheat and blow out under pressure than the fiber - cardboard type gasket.
SKU: 10031